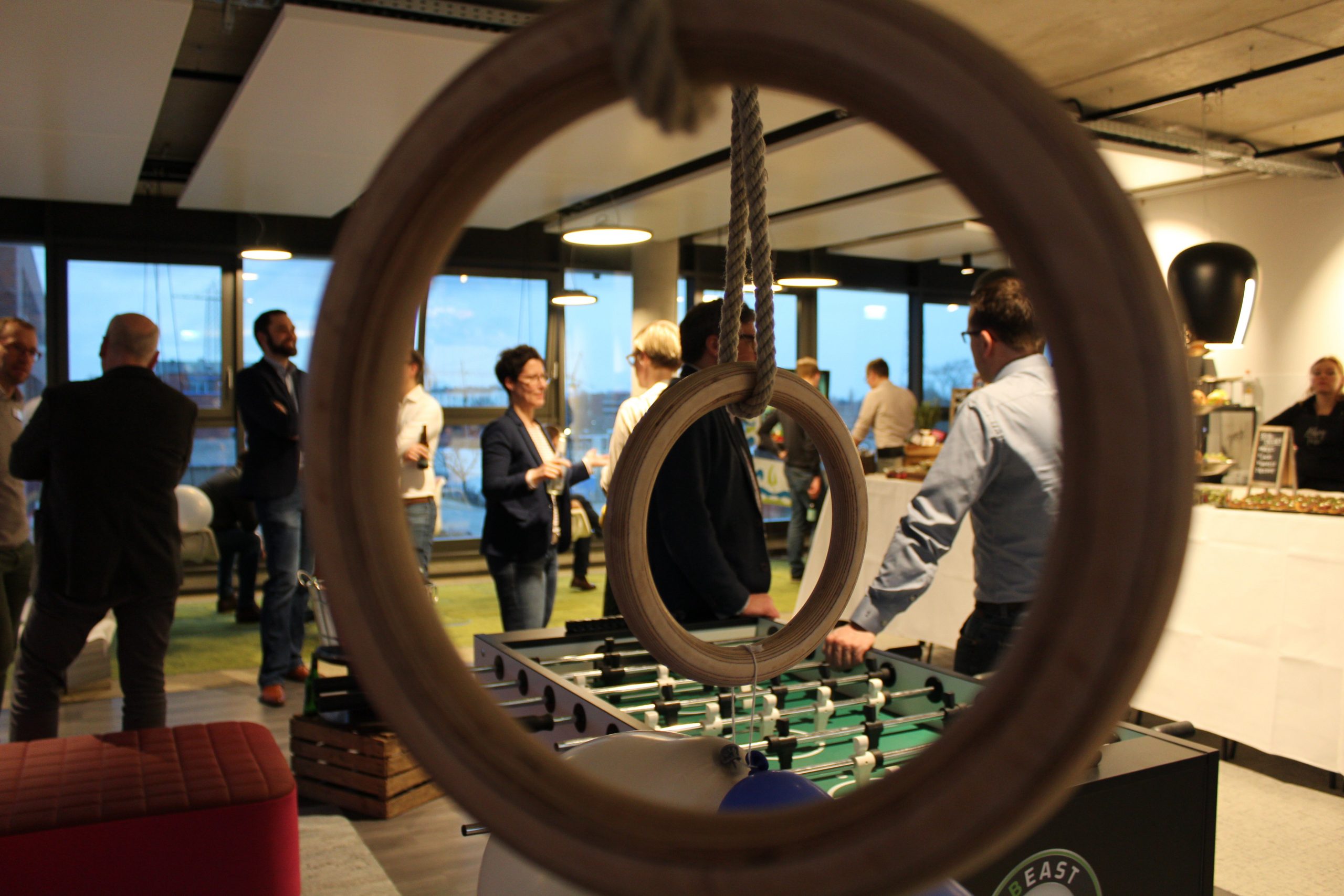 Our guests meet up at a get-together with finger food and drinks
On 27th February 2020, we celebrated the opening of our new premises in the Hamburg Innovation Port (HIP). Our development work as well as our systems production is primarily stationed here. However, we will keep our premises at the "ZAL".
The HIP is a technology and innovation park surrounded by the Technische Universität Hamburg (TUHH) and other renowned partners from industry and research. In the future, further industrial companies from the respective research areas will also move into the HIP enabling strong synergies. Our team of forty members with numerous TUHH graduates is now located directly at the interface between industry and research.
The official opening ceremony on 27th February 2020 led the approximately seventy guests and business partners of various companies from the aviation industry through our new premises. During the evening, we showcased our ten demonstrators and applications in the fields of precision surface inspection, collaborative shop floor robotics and worker-centric mobile inspection solutions. By doing so, we had the opportunity to raise the awareness of our "Advanced automation" solutions and provide insights into how today's automation technologies can enable a digital workshop in the future.
The use cases for mobile tools ranged from flexible damage detection and classification on a tablet by intelligent algorithms to the inspection of hard-to-reach areas by using high-resolution and miniaturized camera Systems.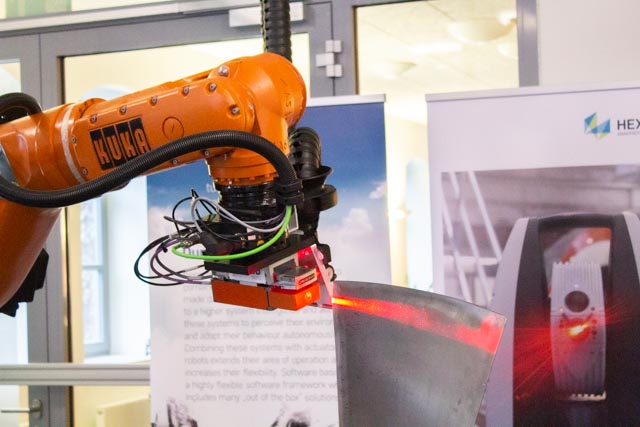 A robot from our AutoInspect solution inspects a part for damages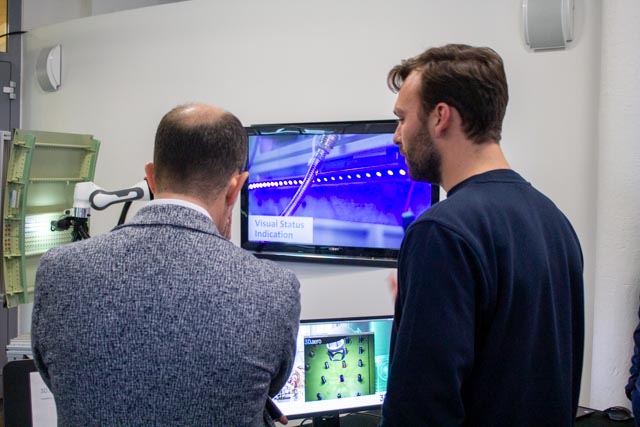 A 3D.aero team member introduces our 3D.Riveting showcase to a guest
The robot-based automation solutions provided insights into a fast and highly precise inspection of entire engine components using advanced sensor technology. Among various application fields with industrial robots, we also demonstrated the high level of maturity of our automation solutions with collaborative robots (so-called Cobots) for the optimization of assembly and logistics processes. The highlights of the evening were the Cobot workhop for those, who were interested in teaching the Cobot new motion sequences as well as the 3D.Bodyscan, which allowed our guests to get their personal digital twin after experiencing modern sensor fusion on their own bodies.
We would like to thank all our guests who travelled all the way to our new facility to celebrate this new chapter of 3D.aero GmbH and made the opening ceremony a great success. A special thanks also goes to our joint venture partners Lufthansa Technik and Pepperl+Fuchs as well as to our company representatives who have accompanied us from the beginning of our journey and who also found warm words for us at the opening ceremony. We are looking forward to a strong and trusting cooperation with all our business partners and are very excited about the new partnerships and projects that will come along with the new technology and innovation location in Hamburg. Together, we aim at strengthening the digital future of the European aviation hub in Hamburg.